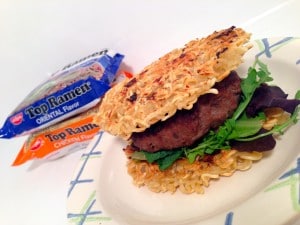 Ramen Panini Burger
I'm back on a panini kick lately. Yesterday I wrote about the glazed doughnut bacon and egg panini and today I'm going to tackle another popular fad that's going around the internet lately. It seems like everyone is making burgers or sandwiches using ramen noodles as the bread. And my motto is that a sandwich is always better as a panini, so this past weekend I fired up the panini press and made this Ramen Panini Burger.
Replacing the bread with ramen noodles wasn't too challenging. All you need to something to bind them together so that they hold the bun shape while you eat your burger. I used an egg. After cooking the ramen noodles as I usually wood, I drained away the soup and beat an egg then added it to the bowl. Also add a teaspoon of soy sauce. Using my hand I mixed the ramen, soy and the egg together. And then with the panini press already hot I grabbed a handful of noodles and placed them on the press. You want round shapes for your ramen buns to match the burger patty, so adjust the ramen as necessary. It doesn't have to be perfect just go for roundish. Cook for about 3-5 minutes and set aside.

To make your burger patty, mix your chop meat with bunch of chopped green onions and about 2 tablespoons of soy. I also added about a tablespoon of garlic powder and some salt. Mix the meat up good with your hand again. Your hands get a decent workout with this ramen burger recipe.
Cook your burgers in the panini press for about 4-5 minutes depending on how thick you made them.
Next you just have to put it all together. You really don't need an additional press once the sandwich is all together because there's no cheese to melt in this recipe. Just stack it up, top with some lettuce and you're ready to go.
Making a ramen burger is a lot easier when you use a panini press. I probably should have added a chapter on ramen panini in my Panini Press Cookbook.
 And by the way, it tasted really good. Definitely going to make it again.