DIY Children's Desk
Winter is coming. No, I'm not doing a post about The Game of Thrones (although I should, that's a great book series and an even better TV show) I'm talking about the dwindling space in my garage. Pretty soon, I'm going to have about 15 musa basjoo overwintering in my garage. Every winter I dig them up and put them away and that leaves very little room in my garage.
So this weekend, I took a quick inventory and noticed that I had a decent amount of MDF scrap pieces from old projects. And that meant that it was time to make good on that promise to my son to build him a desk for his room. Build something useful and clear up some space in the garage. Win/Win.

My son needs his own desk because him and his sister drive my wife and I crazy when they do their homework at the same table. "Stop touching me", "breath with your mouth closed", "you're on my side", "he's making too much noise", "she hit me". You know, all the usual stuff that brothers & sisters say to each other.
I truly hate homework. It was no fun doing homework when I was a kid but it's a form of pure torture to get your own kids to do a good job on their homework. Then to top it off, if you add in the sibling fighting and it's enough to drive you insane. Insane enough to build a desk on your day off from work.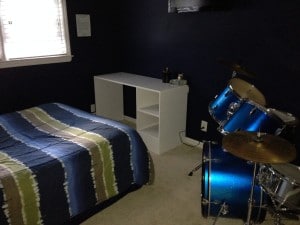 Now I've seen cheap desks at IKEA for like a hundred dollars or so but I had the wood scraps and paint just sitting them in my garage so I spend a few hours on my Saturday afternoon on this quickie woodworking project.
I didn't quite have the exact dimensions of wood needed for my original plan so a few mid-project adjustments needed to be made. There were definitely a few moments where I measured once, cut once, then cut again, then thought about it a while and then put it all together. And after some wood putty and paint, it looks like I planned it that way anyway.
So to review, I cleaned up some space in my garage, built a desk and devised a plan to separate my kids during homework time. I think the desk came out pretty good but the real test will be tonight when it's time for homework. Wish me luck.