Making a cappuccino with the Ninja Hot and Cold Brewing System is a quick and easy way to enjoy a delicious, creamy coffee drink at home. Here's a step-by-step guide on how to make Ninja Hot and Cold Brewed System Cappuccino
Gather your ingredients and equipment. You will need the Ninja Hot and Cold Brewing System, coffee, milk and a cup for serving.
Does the Ninja Hot and Cold Brewing System Make Espresso
Unfortunately, the answer is no. For people who are die hard espresso connoisseurs, this is a deal breaker. Those people should look for a different coffee machine for their espresso fix. But if you're making coffee drinks like cappuccino, lattes, macchiato or even tea then this machine has you covered. You're going to select the Specialty brewing option and it will use Thermal Flavor Extraction Technology to make you a delicious and strong cup of coffee. The Specialty option is perfect for making all those hot coffee drinks. Your Ninja Hot and Cold Brewed System Cappuccino will still be delicious and you won't even realize that it's technically not espresso.
Brew the Coffee
Prepare the coffee using the Specialty brewing option. This is very easy to do with the Auto-IQ One Touch Intelligence. Every cup you brew is going to have the same great taste.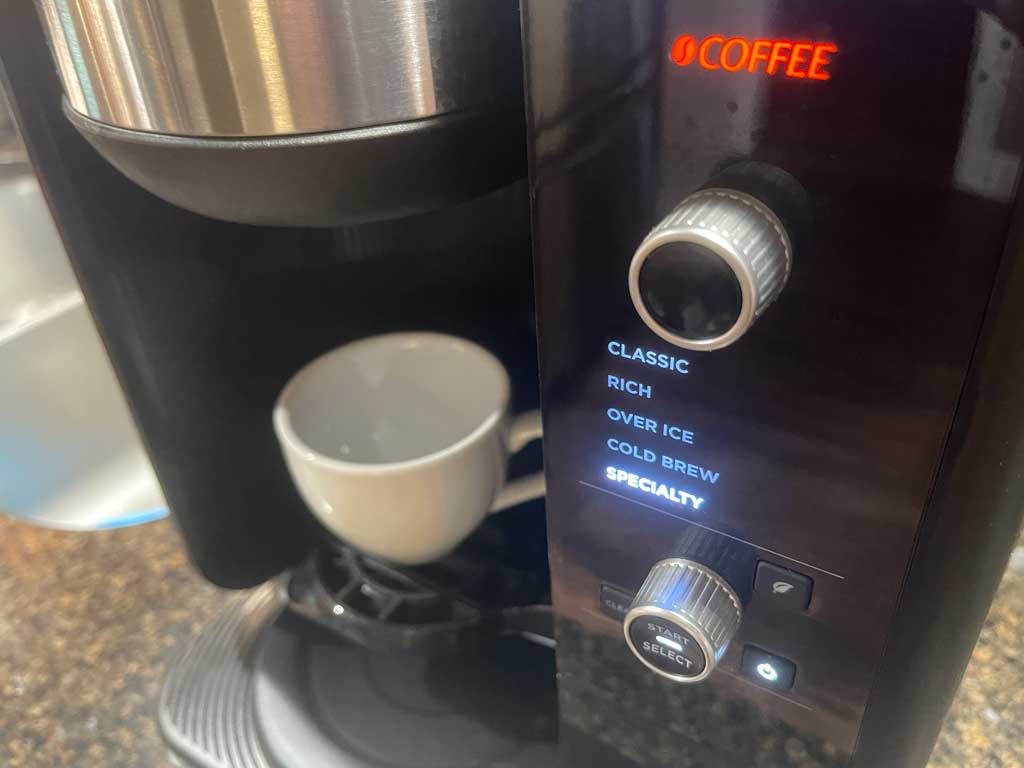 Froth the Milk
While the coffee is brewing, heat a cup of milk in the microwave. A Pyrex measuring cup is perfect for this. Do not boil the milk! You want it about as hot as a cup of coffee. Start with 30 seconds and check it. Keep doing another 10 seconds until you've reached your desired temperature. Now remember the total seconds for next time. And after you see how great your cappuccino is, there will definitely be a next time.
Now froth the milk using the built-in frother. Swing out the arm and slowly raise and lower your cup of hot milk into the vibrating bottom of the frother. The milk will be nice and foamy after 30-60 seconds.
Assemble the Cappuccino
Once the coffee and frothed milk are ready, it's time to assemble the cappuccino. Slowly pour the frothed milk into the coffee cup. When it's close to full, scoop a large spoonful of foam on top and gently plop it in. The foam on top is perfect for holding up a sprinkle of cocoa powder or a dusting of cinnamon which you can add for extra flavor.
Serve and enjoy! Your cappuccino is now ready to be served and enjoyed. Sip and savor the rich, creamy flavors of this classic coffee drink.
Ninja Hot and Cold Brewed System Cappuccino
Using the Ninja Hot and Cold Brewing System to make a cappuccino is a great way to enjoy a delicious, cafe-style coffee drink at home. With its specialty brewing option and built-in frother, you can whip up a cappuccino in no time. Happy brewing!