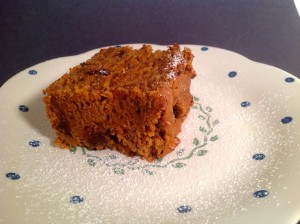 Vegan Pumpkin Bread
As someone who is not a big fan of pumpkin pie, it's surprising that I'm totally loving this recipe for pumpkin bread.
You see I spent a lot of time searching online for a great Vegan zucchini bread recipe because like most vegetable gardeners at this time of year, I have so many zucchini that I don't know what to do with them. Its an annual questions that plagues most veggie growers. What to do with the extra zucchini? I've fried them, I've grilled them, sautéed them, made them with pasta, with rice, with quinoa. I've even made potato zucchini pancakes. And before I start sounding like Bubba from Forest Gump, I even gave them away to people at work. So why not try zucchini bread? But what does this have to do with Pumpkin Bread? I'll get to that part in a minute.
So I found this great recipe. I eat a lot of vegan food because I have cholesterol issues but that's a story for another time. I checked the ingredients while I was at work and did some shopping during my lunch break. I was all set when I got home to make some delicious zucchini bread. Except for one thing. After going to the garden, I realized that I didn't have an zucchini. There were a few football sized one but I don't like to cook with those because they get too seedy. All the perfectly sized zucchini that I was counting on had some bite marks in them or they were totally eaten. I must have had a visit from a woodchuck or a rabbit.

So without any zucchini, this zucchini bread mission that I was on would probably not work out so well. But wait, I had a can of pumpkin from Trader Joes in my pantry. So I said to myself, why not just substitute it? And that's how this Vegan Pumpkin Bread recipe was born.
One other minor problem that I ran into was that I didn't have any baking powder. I did have three containers of baking soda but the recipe called for baking powder. No way was I running out the store or giving up on my veggie loaf, so I quickly found out how to make baking powder from baking soda and cream of tartar.
Despite all the problems this Pumpkin came out awesome. Absolutely perfect for a nice treat at night or even a hearty breakfast. Here's the recipe.
Yield: 2 loaves
Vegan Pumpkin Bread
Ingredients
6 tablespoons

ground flax seeds

½ cup

warm water

2 cups 

brown sugar

1/2 cup 

canola oil

1/2 cup 

applesauce

1 teaspoon 

vanilla

1 can (about 2 cups) 

pumpkin

2 cups 

flour

1 cup  

whole wheat flour

1 tablespoon 

baking powder

1/2 teaspoon 

baking soda

1 teaspoon 

cinnamon

2 teaspoons 

nutmeg

1 teaspoon 

salt

1 cup 

chocolate chips (optional)
Cooking Directions
Preheat oven to 350 degrees
Grease two loaf pans with cooking spray
Add the flax seeds to warm water and mix
Add the sugar, oil, applesauce, and vanilla and mix
Add pumpkin and stir until combined
Mix in optional chocolate chips if desired
In a separate bowl, mix together flours, baking powder, baking soda, cinnamon, nutmeg and salt
Add dry mixture to wet and mix until moistened. Do not over mix, some lumps are okay. Pour batter into greased loaf pans
Bake at 350 for 50-55 minutes, or until knife inserted in center of loaf comes out clean