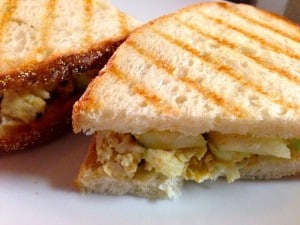 I would never in a million years think that vegan tuna salad would taste good but let me tell you, it does. Well at least this recipe does.
I'm always looking for good sandwiches to bring to work. Nothing beats a tasty meal during that all too quick lunch break. And a bad lunch can totally ruin the rest of your day.
I found this recipe here and only made a couple of very minor changes. So I can take no credit at all for this recipe, well except for the part about turning it into a panini. I tend to turn everything into a panini. You'd think that I wrote a Panini Cookbook
 or something.
Vegan Tuna Panini
1 can chickpeas/garbanzo beans
1/2 large lemon
3 Tbsp hummus
1 1/2 cups celery (chopped)
1 small onion (chopped)
1 sheet of toasted wasabi flavored seaweed (crushed)
1 tablespoon nutritional yeast
1 teaspoon garlic powder
salt + pepper to taste
Rinse and drain the chickpeas/garbanzo beans and add them to a mixing bowl. You can peel them if you like but it's totally not necessary
Mash the beans with a fork, 
mortar and pestle
or a
potato masher
Add the rest of the ingredients and mix
Put the mixture in the fridge for at least an hour to give the flavors a chance to blend
For a panini, spread the mixture between two slices of crunchy bread. top with pickle and tomato and press in a preheated panini press for 3-5 minutes
Note: Trader Joe's has excellent toasted wasabi flavored seaweed and I think they only cost about $0.99 per package. It gives this recipe a good fish like flavor and also a little bit of heat.
If you want to use real tuna fish then it obviously won't be vegan anymore. But I'd still use the celery, onion, pickle & tomato. Or add cheese for a tuna melt panini.