First of all, making a crock pot full of pulled pork is never a bad thing. Especially when you can use it to make more meals the following week. In fact you can make a bunch of great meals with leftover pulled pork. Here's my favorite leftover pulled pork recipes.
Because, I mean seriously, who wants to cook for hours when you get home from work Monday through Friday? Did you raise your hand?  Me neither. My motto is to make something big on the weekend and then make other recipes using the leftovers. And most of all, with leftover pulled pork you can make some good stuff.
Leftover Pulled Pork Recipes
Pulled Pork Sandwich
This is one of the easiest leftover pulled pork recipes that you'll find. Anyone can make a sandwich. Just put it on a roll and add your favorite BBQ sauce. Sometimes I also like to add some cole slaw to the sandwich. Cole Slaw is an especially good addition if your BBQ sauce has a little zing to it. It balances out the sandwich nicely.
Pulled Pork Sandwich Recipe
1 roll
1 cup pulled pork (depends on how big your roll is)
1 cup cole slaw
2 tbs BBQ sauce
Add all ingredients to a roll
Optional – toast the roll
Pulled Pork Tacos
I recently did a post on my Pulled Pork Taco Recipe. This is great when you're in the mood for Mexican food but you don't want to load up on beans and cheese. The cilantro and lime flavors with the crispy pulled pork combine for a nice lite and fresh tasting meal.
Pulled Pork Monte Cristo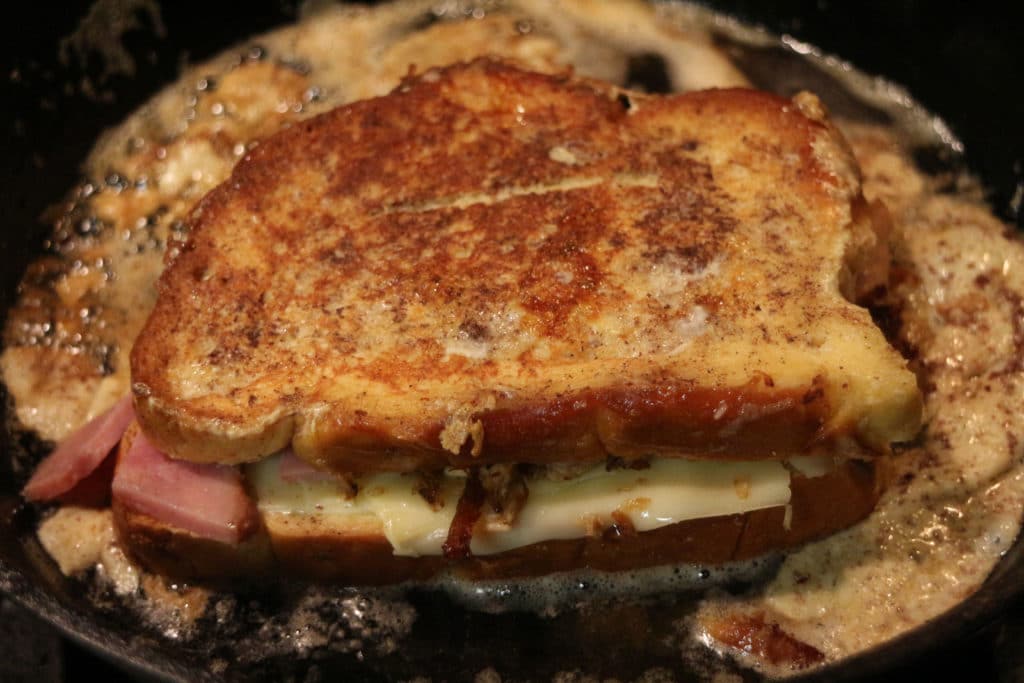 Now the Pulled Pork Monte Cristo is the absolute opposite of lite and fresh. This is basically a grilled cheese with meat and maple syrup and there's nothing wrong with that.
Pulled Pork Monte Cristo Recipe
2 thick slices of Challah Bread
4 slices Swiss Cheese
2 slices Ham (cut into bite sized pieces)
1 cup pulled pork
2 eggs
1 cup vanilla almond milk
1 tsp cinnamon
Add eggs, almond milk & cinnamon to bowl and whisk
Place Swiss Cheese, Ham & Pulled Pork on bread
Dunk sandwich into milk mixture trying not to let ingredients slip out and coat both sides of sandwich
Place wet sandwich on hot cast iron skillet or frying pan
Cook for 3-4 minutes then flip and cook for another 3-4 minutes
Remove from frying pan and serve with a bowl of maple syrup for dunking
Pulled Pork Mac & Cheese
Adding pulled pork is a really good way to make your mac and cheese more exciting. Lobster, duck, brisket, you can add anything to mac and cheese and it'll still be good. So why not add some pulled pork. BBQ sauce is optional.
I'm not going to do the recipe for this one because I just used frozen mac and cheese from Trader Joe's. Of course it would taste better if I made it from scratch but sometimes you just have to go with what you have on hand and today frozen mac and cheese from Traders Joe's got the job done. You can fry up some pulled pork with some butter to make it a little crunchy then add it to your mac and cheese.
So like I said, it doesn't take a huge effort to cook during the weekend when you took care of the hard part on the weekend. Leftovers are key to eating well when you don't have a lot of time to prepare your meal. And here are four easy leftover pulled pork recipes that you should remember if you have plan on having leftover pulled pork.