Garden Machete
One of the best presents that I got this past Christmas was a garden machete. I was expecting something like socks or other boring necessities. One year my daughter found one of my old hockey pucks in the garage and wrapped that up for me. But opening up a garden machete on Christmas morning was definitely one of the most unexpected treats of the whole year.
So what do I need a machete for anyway? Beside killing zombies, I also plan to get a lot of use out of the machete in the garden. Every spring I usually split a dozen or so hostas. In the past I've used an old kitchen knife or a shovel but now I can yell, "Hassan Chop!" and look much cooler doing it. Every year the hostas keep getting bigger and I keep splitting them. And now I have the proper tool for the job.

Another great use for my garden machete will be chopping down my musa basjoo every fall. I like to grow hardy banana trees that need to over winter in my garage. For banana trees they're pretty hardy but New Jersey winters would be too much for them. So in the fall, I chop off the leaves and if necessary I chop the pseudostem (the trunk) to fit them in my warmer garage.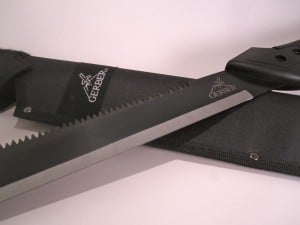 The machete I got is made by Gerber. They make pretty good multitools so I would think that this machete should hold up well. It even comes with a sheath. I checked some of the reviews on Amazon for this particular machete (Gerber 31-000758 Gator Machete with Sheath
) and there were a few people who gave it one star. That worried for until I read between the lines and saw that these people were trying to cut down trees and chop firewood and crazy stuff that you'll see Bear Grills or Survivorman do. For use in the garden I don't think that I'll have any problems with it snapping in two. I don't have any rock hard hostas so I should be okay.