French Toast Sticks in Panini Press
When it comes to breakfast, I have a lot of experience. I used to work in a dinner as a short order cook when I was young. So it's safe to say that I've cracked a few eggs. Definitely thousands of eggs, maybe even tens of thousands. Also stacks and stacks of pancakes and many loafs of french toast. I've done the basics over and over again. Now as a Dad, I'm always looking to try something new.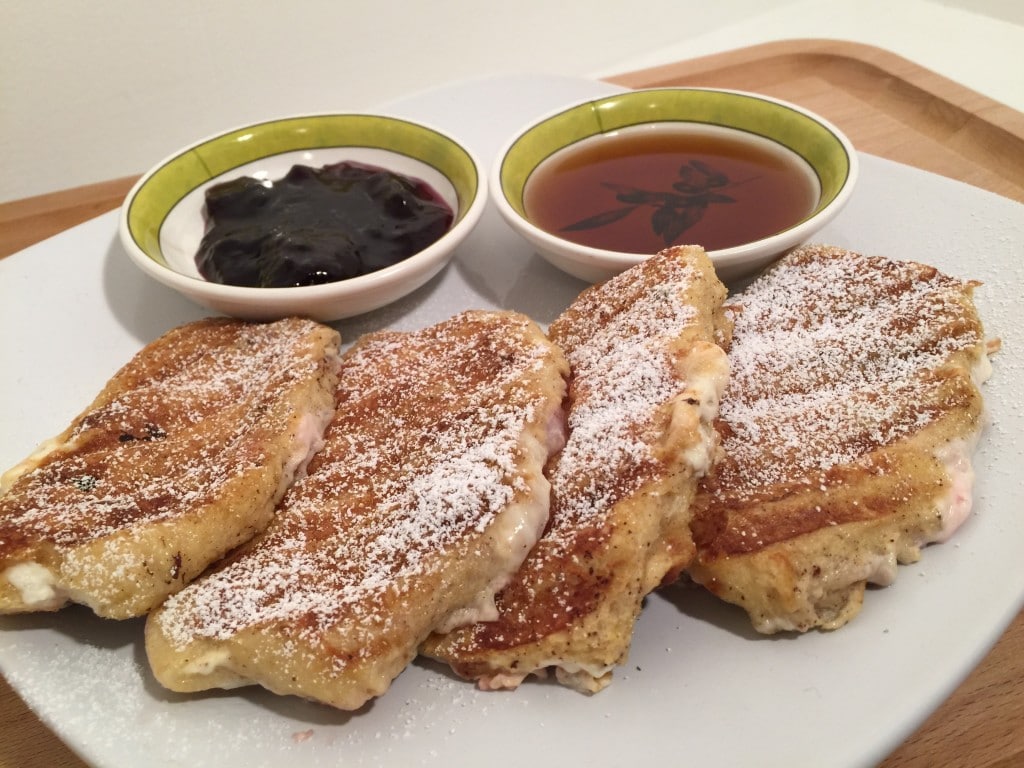 I saw a video from
The Domestic Geek
where she makes
french toast three different ways
. The PB&J French Toast Roll Ups looked really good and I thought that was a most outstanding idea. My kids love French Toast sticks and they love making desserts with things like peanut butter and nutella and fruit so combining the idea for a nice breakfast is awesome. But the part where she slowly rotates the sticks while cooking them seemed like a drag. If I changed her cooking technique to use the panini press, it might work out better for me. Quicker and better is always good when getting the kids ready for school in the morning.
I used potato bread because that's what I had on hand. Any kind of sliced soft bread will work great. I could see a honey wheat probably adding the right flavors for these style of recipes. I'll have to try that next time I pick some up at the store. When I make regular french toast, chill bread is the way to go. But since these are getting rolled up, I went with the sliced potato bread.
Now if you didn't watch the video to see how to make these, I'll summarize it here.
Take your topping and spread it over the bread. I'm going with cream cheese & strawberries in some. And I made a quick apple pie filling by dicing some apples and sauteing them in butter, cinnamon & sugar. French toast and apple pie are a great combo.
Now gently roll them up and put them aside. If they aren't staying together you can pin them with a toothpick if you want. But obviously remember to take it out when you cook them.
The french toast mixture is usually eggs, milk, cinnamon & vanilla. I'm not a big milk fan so i went with vanilla almond milk, eggs & cinnamon and then I still added a little bit of vanilla in there too. Dip the sticks in the mixture and put them directly on the preheated panini press. Close the lid and cook for 3-5 minutes. There's really no need for rotating because the panini press squashes the sticks into a flat form.  That squashing effect wasn't really what I expected but it turned out fine. The panini press shaped the french toast sticks more like folded over bread than like a rolled up stick. But like I said, I'm okay with this.
The panini press also cooks the sticks a little more crispy than regular french toast that's cooked in a buttered pan but it works because my kids are used to french toast sticks that you eat with your hands.
Take them out and dust with powdered sugar and serve with syrup and or jelly.
Overall, I'd say this was a nice breakfast experiment and something that we'll do again in our house. Too bad the diner didn't have a panini press.