Cuban Panini
It seems like every time I do a post for the food category here on this blog, it winds up being a panini sandwich. And you know what? I'm okay with that. Here let me do a quick mention of The Everything Panini Press Cookbook since I'm the author and now that that's over with, lets get down to business and make a Cuban Panini.
The Cuban sandwich is pork, ham, Swiss cheese, pickles and mustard. That much is agreed upon. The part that isn't set in stone is whether there's salami on the sandwich or not. I like it with salami and I like it without. Today I'm making it without. I think a more important variation is replacing the mustard with garlic mayonnaise. No one really talks about replacing the mustard in the Cuban sandwich put I'd like to start that conversation at some point because ts a nice variation of the sandwich.
Now to make the Cuban sandwich as a panini, you really don't need to change much. In fact a lot of times when you order a Cuban or Cubano sandwich as it's sometimes called, they will press it for you so you get some nice melted cheese. It's usually not done with a true panini press that has ridges on the grill plates. They will use a flat grill press instead. But I like the ridges that you get when you use a true panini because it makes the bread more interesting.
Here's one of the reasons why I make so many panini sandwiches. It's because it's the best way to use your leftovers. I made some pork chops the other night and looking at a Tupperware container of pork chops makes me think Cuban panini. Not a lot of people are going to cook pork specifically to make a sandwich with it. So next time you have some left over pork. Definitely try this Cuban Panini.
As with all panini you want a great piece of bread or roll. I went with these good looking ciabatta rolls.
Slice the pork on the thin side. Also slice the pickles. I'm using spears because my wife continues to buy pickle spears even though I've gone on the record many times saying that spears are for hunting dinosaurs, not for pickles. But despite this, she always brings home these spears from the supermarket. Ham and cheese is next. Swiss is the way to go but you can Italian the sandwich up a little bit if you use a good provolone instead. If you're going to use provolone then you should also try the salami variation that I mentioned before. And if you're going with a variation, try using the garlic mayonnaise too. Just take a cup of mayonnaise and mix it with garlic. A few roasted cloves would be ideal but you can use minced or powered garlic in a pinch. Let it sit a day in the fridge and you'll really taste the garlic. A cup is way too much for one sandwich so use what you need and you'll have a lot left over.
Assemble the sandwich and put it in a pre-heated panini press that has been coated with a cooking spray. Press it for 3-5 minutes, remove and cut the panini in half. Cuban sandwiches are traditionally cut diagonally.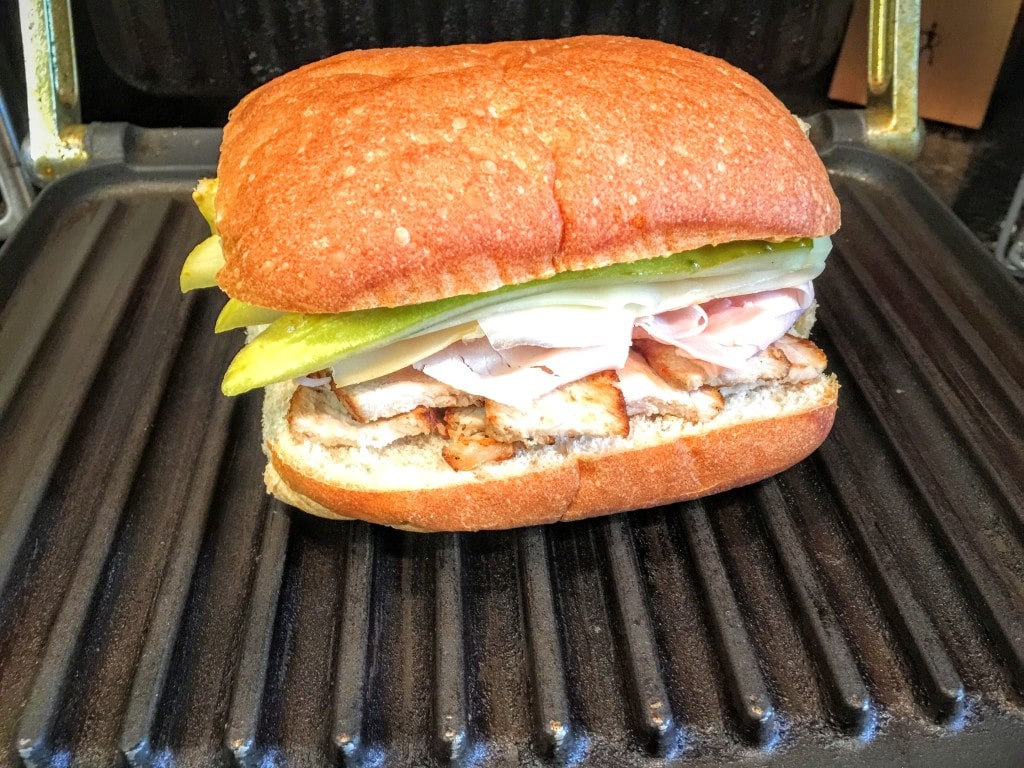 The two most important tips that I shared today are that panini are the best way to use up your leftovers and also that nothing is set in store. Panini with the stuff that you have and don't be afraid to try new things. Even a popular sandwich like a Cuban can be enjoyed as a panini.