When looking for whole home audio, the first product people usually check out is Sonos. Sonos was one of the first home audio system that took advantage of wireless networking and digital music libraries. But
Sonos is an investment. That's a nice way of saying that it's not cheap. So when I decided to add outdoor speakers around my pool I found a cheap Sonos alternative.
Don't get me wrong, Sonos is great. They've been doing whole home audio since the early 2000s and have a big selection of products. But when you're a DIY guy and want a cheap alternative, you look to leverage the stuff you already have. And that's exactly what I did.
If you aren't a DIY guy though, I recommend you get the real Sonos. You can get a great deal on all the Sonos products here. I'd start with a Sonos Play:1 and add more speakers over time.
Okay and now for the rest of you who want to find a cheap Sonos alternative, let me explain what I did to get great sounding music around my pool.
Outdoor Speakers
First I started with speakers. I didn't want wireless or battery powered speakers that you have to move around and take in when it rains. If you want to do that, then go right ahead and buy an Amazon Echo or a Sonos Play:1. I wanted permanent and powered speakers so I went with these outdoor speakers from Yamaha. I drilled holes in my house and ran speaker wire through the holes and I'll never have to move these speakers. They sound great and they're weather proof.
Using a Cheap Stereo as a Music Source
Now I needed a music source. If you have an old bookshelf stereo system, then the project is done already. You could have your cheap Sonos alternative for the cost of some outdoor speakers. And that's what my original solution was. I had an old Aiwa stereo with CD, Cassette (My kids never saw a cassette before this) and radio. I built a little shelf to hold it under my eaves and away from the rain, connected the speaker wires and I had music outside. It was just radio and CDs but that was great start.
Building a Stereo Shelf
Building a little shelf for the stereo was a fun project. I took some leftover MDF from another project and cut it to fit the dimensions of the stereo. Then I painted it white so it would blend with it's surrounds and not stand out. Also MDF is not a great material for outdoors so it needed some paint to keep the moisture out. Even though it's never in direct rain, it still gets pretty humid out during the NJ summers. Go with the paint.
Auxiliary Input Might Be The Cheap Sonos Alternative You Already Have
Also, if your stereo has an Aux connection, you could connect a phone or tablet with a cable and add all of your streaming music sources to your setup. Spotify, Pandora, Amazon Music, Apple Music, YouTube and/or anything else that has an app that runs on your phone or tablet. The only downside is that you need a cord and the device has to stay near the stereo.
At this point, the cheap Sonos alternative is still pretty cheap. And this is exactly what I did last summer. But my old Aiwa stereo had a terrible Aux port. For some reason it played music at about a third of the volume of the radio or CD. So you had to turn it to the maximum volume in order to have streaming music that was really low. There'd be no dance parties with that set up. I probably should have kept it like that because my daughter likes to crank up the new setup but that's another story.
Last summer My wife and I and even the kids mostly played the radio. It was a good setup, the music sounded great and so did the commercials. Yes, the radio has those annoying commercials so if they annoy you as much as they annoy me, you may want another upgrade.
Bluetooth Receiver
Bluetooth was the answer. I purchased a new stereo system that had Bluetooth in it. Now if you have an old stereo with Bluetooth then you'll keep your budget cheap. I went with this one from LG. It's got a great sound and was pretty inexpensive. In the winter, I would bring it inside and connect it to the basement TV so it wouldn't go unused during the cold months.
Kindle Fire 8
You can connect your phone via Bluetooth to the receiver but that there are some issues with that if you're not sitting still. If you go inside to the bathroom or have to go cook at the BBQ or somewhere else that's out of range, you just lost your music. Or if you get a notification, you'll either hear the ding over the music or the music will mute for a second. That's very annoying. Especially if you posted some cool project to Pinterest and all of sudden you're getting 100s of repins. Ding, ding, ding!
I solved this problem with an inexpensive Kindle Fire 8. They're about $80 and you can download whatever music service you use (Sorry no Apple Music yet). Besides the built in Amazon Music, the Amazon App Store has Spotify, Pandora, IHeartRadio and others. If you subscribe to Apple Music then you'll have to use your phone. Or if you want a dedicated music device for Apple Music you can get the more expensive iPad, iPad Mini or the new IPod Touch. Maybe you already have an old one so definitely use that and keep the budget down. But remember to leave the notifications off on this device.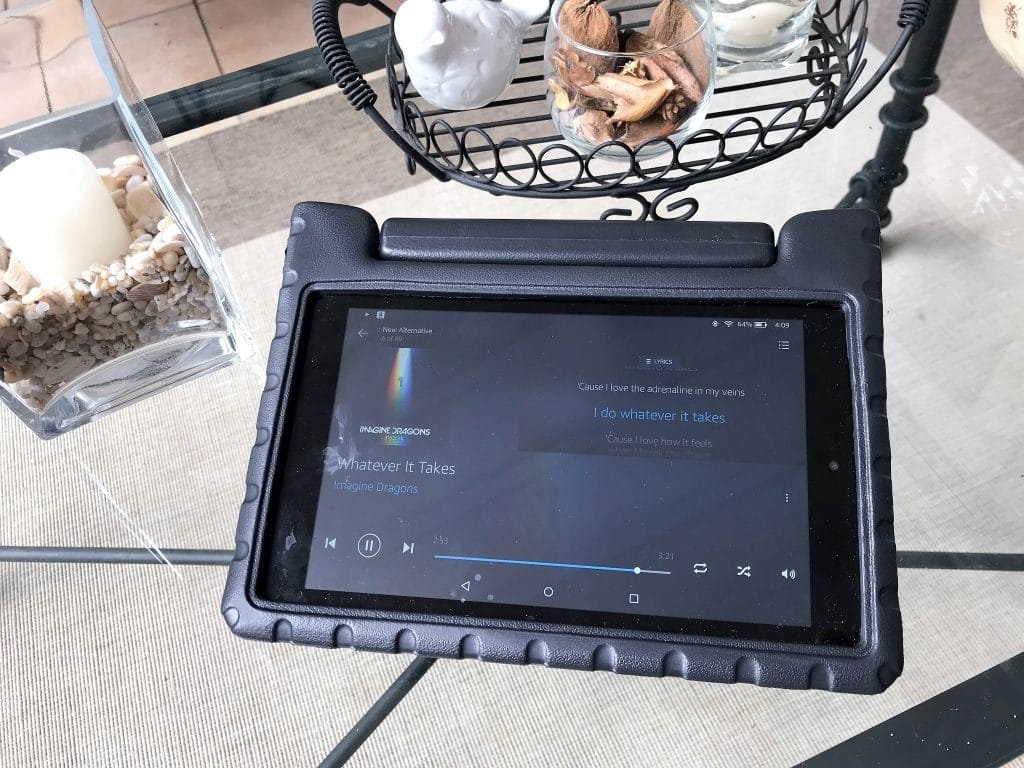 Kindle Fire 8 Case for Outside
I use this shock proof case for the the Kindle Fire 8. It's basically a big foam kids case but it's black so it looks nice. When you're outside and there's a concrete patio or other hard surfaces, it's nice to have some extra protection around your device.


WiFi
This setup will work great as long as you have a strong WiFi signal where you want to stream. So if you want to sit by the pool or on the patio, make sure the signal is strong there. If it isn't, then I recommend getting a WiFi Extender. They're really easy to setup and work great to extend your WiFi signal.
And there you have it. If you have to buy all of my suggestions then you're definitely getting into the price range of a few Sonos components. But if you're like me and have some of this stuff sitting around your house already, then you should start using it as a cheap Sonos Alternative.