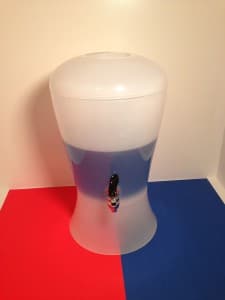 Beverage Dispenser with a Spigot
Let's face it. People like fancy drinks now a days but when you're having a house party, you don't want to spend all of your time behind the bar making them. A punch bowl solved this problem in the past and will still do the trick today but even better is serving punch in a beverage dispenser with a spigot.
Now one means to do it but fingers always wind up in the punch. Or later in the night, people get lazy and stop using the laddle and scoop out the punch with their cup. Lets completely take that option away from people and put the punch in a beverage dispenser. You want punch, grab the spigot. No fingers, no cups, no mess.

The exact model that I have is called the
Creativeware 3-Gallon Beverage Dispenser
and I like it a lot. 3 gallons means that you probably won't have to refill it during your party or get together. If you have friends that can go through 3 gallons of something, then maybe you should buy two of them. Plus it's got a little compartment for ice underneath it.
Also with regular punch bowls you can get a floater now and then. Especially if you're having an outdoor party you might wind up with a floating bug or something that falls out of the trees, a leaf, a puffy floating thing or a squirrel. Well maybe not the squireel but if you put that punch in a beverage dispenser then you'll be okay.